Top Ten Rare Coin Picks
Rare coin collecting has been a time-honored hobby for centuries. These days, there are more coin collectors and amateur numismatists than ever before. From gold to silver and ancient to modern, there is a coin collector for them all. Even though coin collecting is a fun, fascinating, and even challenging hobby, the wise collectors have always purchased rare coins with the future in mind. Deciding which rare coins will be the most fun to collect, as well as being prudent investments is the most challenging decision any collector will have to make. Welcome to…
The Top 10 Most Recommended Rare Coins for 2024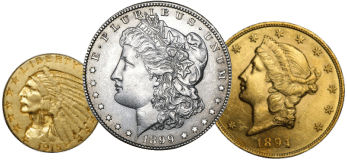 Morgan Silver Dollar – They are the most highly collected coin in the US, therefore they are easily liquidated. The current silver market makes the common dates of these coins more desirable than ever.
$20.00 Gold Double Eagle – These coins contain over 96% of a Troy ounce of gold. As a result, the common dates fluctuate with the price of gold. These have been a hands-down favorite with royalty and industry leaders worldwide, and are a great hedge against inflation.
U.S. Paper Currency in higher grades. All of the major coin grading services are grading paper currency now, which means there are more certified notes on the market, increasing collector demand.
Indian Head Gold Coins in MS-62 condition. $2.50, $5.00, and $10.00 are all great looking gold coins, and have always been popular with coin collectors. For all three, there is a large price jump between MS-62 and MS-63. MS-62, therefore, is the best collector grade in terms of eye-appeal for the dollar, but as coin collector demand increases, there is a lot of room for the price to move before it encroaches on MS-63 territory.
Mercury Dimes – Mint State Sets from 1916-1945 in grades of MS-65 and up. Proof Sets 1936-1942 are very rare and difficult to acquire, but worth it. Not to mention that they are one of the most beautiful coins ever produced by the U.S. Mint.
Franklin Half Dollars – Only 445 million Franklin half dollars were minted in total. Compare this to almost as many Kennedy Half Dollars in 1964 alone (Many statehood quarters have mintages higher than that as well!). 1948-1963 sets in MS 65. Proof Sets 1950-1963 high grade and cameo coins are well worth collecting.
Two Cent Piece – 1864-1873 sets in MS-63 and MS-64, proofs in MS-64 and above. This is not just an esoteric type coin.
U.S. Silver and Gold Type Coins – Every coin collector should have a complete type set, if for no other reason than to appreciate the entire spectrum of United States numismatic coins. However, the wise rare coin collector will collect key date type coins to ensure liquidity. Our knowledgeable staff will guide you through the best date and condition combinations for your budget.
Foreign Gold Coins – These coins can never be worth less than gold, and many trade for only a few percent more than gold bullion in today's market. This is a great way to collect numismatic gold while still developing your numismatic expertise. Given the current gold market, this is a great way to squirrel away some extra money.
U.S. Gold Modern Commemoratives – The mintages of these are determined by the number of orders placed. Most people order the proofs which leave the mintages of the BU's rather low for many of the dates. Demand on the secondary market usually drives the price up within a couple of years after issue.