Rare Coin Estate Appraisals & Liquidation
Estates often include rare coins and US paper currency that, like all other assets, need to be appraised and potentially liquidated. American Rarities has assisted banks, attorneys and private fiduciary agents with this process many times. Our experience with numismatics provides our clients with peace of mind when dealing with estate collections.
Numismatic Experience You Can Trust
American Rarities Coin Company is a Professional Coin Grading Service (PCGS) and Numismatic Guaranty Corporation (NGC) member dealer, and our buyers are ANA members. We have been in the rare coin business for 25 years, and our staff has over a century of combined numismatic experience.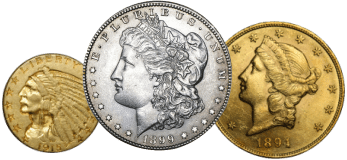 Estate Rare Coin Collection Appraisals and Pricing

Our IRS acceptable appraisals can be tailored to meet your clients' specific requirements. Tax preparers, please note that we can provide an appraisal based on any historical date.
We offer the following appraisal services for your clients, depending on their needs:
Insurance / replacement value appraisals
Fair market / liquid value appraisals
Date-of-death appraisals
From high-value, certified numismatic collections to simple accumulations of common collectible coins built up over a lifetime, our numismatic staff can provide an accurate appraisal of the value of your clients' material.
To request an appraisal for an estate collection, or to request more information about our fiduciary services, please contact us.
Private Treaty Sales Versus Auctions
A private treaty sale to a reputable rare coin dealer such as American Rarities will consistently achieve a greater monetary result than an auction sale. Auction buyers can be fickle – the numismatic market can fluctuate daily, based simply on the headlines of the day, and auction attendance is never guaranteed.
American Rarities has a long-term outlook on the rare coin market. We have been in the rare coin business for 25 years. We are confident we can offer your clients a higher price, with immediate payment, than they would receive through the longer, drawn out process of an auction.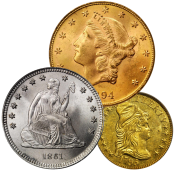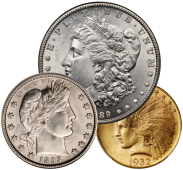 Estate Services for Rare Coins
Save your clients money, and save yourself time – have one of American Rarities' professional coin buyers evaluate and appraise your client's rare coin or paper currency collection. Please contact us for more information, or to discuss your needs with a member of our numismatic staff. You can reach us by phone, toll-free, at 1-800-622-5680.
* Though we are focusing this page on rare coins for the sake of simplicity, everything said applies equally to US paper currency.
List of Professionals that use our service:
Attorneys
Bankers
Equities Brokers
Estate Executors
Estate Planners
Fiduciary
Financial Advisor
Financial Planner
Retirement Planner

Contact a Paper Money and Rare Coin Appraiser
Email, Text, or Use This Form To Send Us Your Inventory List or Pictures
Professional Associations