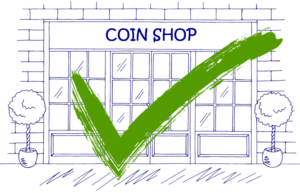 Coin Shop
vs
Coin Auction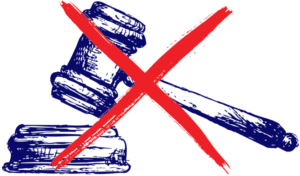 The question is should you sell your coin collection though an auction house or get an offer from a reputable coin dealer.
This article is aimed at the advanced coin collector and investor. Assembling a high quality investment grade U.S. or foreign coin collection or U.S. paper money collection is not easy and can take many years of effort. Not to mention the tens of thousands to hundreds of thousands of dollars of hard earned investment capital involved. The arguments against selling by auction are legion. The reasons to get an appraisal and offer from a reputable rare coin dealer are compelling.
Typical Auction Formula or How The Auction Companies Take You For a Ride
A coin that has a Market Value of $10,000 will typically receive an auction hammer of $8,550. This is because the buyer has to pay an additional 17.5% Buyers Fee of $1,450. So he pays $10k. Then the Seller (you) receives a paltry $8,124. ($8,550 less the 5% Sellers Fee. The auction house receives $1,877 or a 19% commission.
The only winner here is the auction house!
The Pure Economic Reason Why Coin Auctions Are Not The Best Way To Sell.
The majority of sales at major coin auction houses are under $10,000 .
These items tend to sell below market value. Even $10,000+ coins tend to under perform once the totality of the auction fees are taken into account.

Here are some statistics that the auction houses do not want you to know.
75% of coins sold at auction are under $1,000
97% of coins sold at auction are under $10,000
3% of coins sold at auction are over $10,000
Eight Reasons Why Coin Auctions Are Not The Best Way To Sell
Fickle Buyers: The numismatic market can fluctuate daily, based simply on the headlines of the day.
Bulk Lots: Auction houses to save time and their money will in many instances group your valuable coins into lots that regularly sell for a fraction of their true market value.
Limited Audience: Auction attendance is never guaranteed. Neither is a reasonable bid guaranteed. Lack of bidding competition can leave your items selling below market value.
No Guarantee of Selling: Auction companies make it prohibitively expensive to protect yourself with a reserve amount. And if you set a buy-back or reserve amount, there is no guarantee that your item will sell leaving you to pay the fee.
Sale Price Expectations: There is no guarantee of what you will receive. Auctions are like gambling.
Seller's Lack of Control: You have no real control over the sale of your collection.
Seller and Buyer Fees: It all comes out of your pocket. It is typical for an auction house to charge a seller 5% and a buyer 17.5% of the hammer price. You the seller is really paying for this and it is all taken into account by the buyer when you bid. You end up receiving 19% less than the real market value.
Long Selling Process: It can easily take 90 days or more for an auction sale.
Six Compelling Reasons Why A Private Sale Is Best
Guaranteed Sale: A quick, reliable, and transparent sale, with personalized service.
Guaranteed Sale Amount: No guessing as to what amount you will receive. 
Competitive Bidding: An offer to purchase still allows for competitive bidding. 
No hidden fees: We consistently pay more than can be realized in an auction. We often work at tiny margins compared to the overall 19% often charged though auction house fees.
Seller has the control: You the seller now has control over the sale price of your collection.
No Reporting in a Private Sale: Auctions are a matter of public record. To what good end should the sale of your collection be publicized?
Here are some auction houses that we regularly out bid with our cash offers: 
Heritage Rare Coin Galleries
Legend Rare Coin Auctions
Stack's Bowers Galleries
Goldberg Auctioneers
David Lawrence Rare Coins
GreatCollections Coin Auctions
Lyn Knight Currency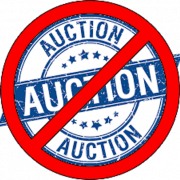 Save yourself time and worry by getting a Free Appraisal and Cash Offer for your foreign and U.S. rare coins or U.S. paper currency. American Rarities has been in business for more than 25 years and has a long-term outlook on the rare coin market. We are confident we can offer you a higher price, with immediate payment, than you would receive through the longer drawn out process of an auction. When you search for "Coin auction" and "Coin auction near me" you want to find a company like American Rarities.

Find Out Why a Private Sale is Better than a Coin Auction
Email, Text, or Use This Form To Send Us Your Inventory List or Pictures