Sell Gold Bullion
Sell Silver Bullion
We Buy and Sell U.S. and Foreign Silver, Platinum, and Gold Bullion
Our professional bullion dealers regularly buy and sell all types of gold bullion, silver bullion and platinum bullion coins and bars, domestic or foreign. If you have bullion material of any variety or quantity to sell, our bullion buyers want to purchase them.
Current Gold Spot Price and Silver Spot Price
Silver bullion and gold bullion are commodities, and as such are bought and sold at specific price levels, based on current precious metal spot prices. Few rare coin dealers are willing to work at the razor-thin margins required to be competitive in the bullion market. Our business philosophy is high-volume and low-margin, which ensures you get the best possible price whether you are buying or selling.
Simply let us know some specifics regarding the types and quantities of your gold bullion and silver bullion, and one of our bullion buyers will immediately provide you with a free, no-hassle appraisal value and offer. We can also go through your material and identify any items with added numismatic value, which would carry an additional premium above their silver bullion value or gold bullion value.
We have access to every possible type and category of platinum bullion, silver bullion and gold bullion. No matter what kind of gold and silver material you are interested in, you will find our pricing to be the most competitive in the market. Contact us today to speak with one of our bullion dealers.
We are silver bullion buyers and gold bullion buyers of all types and varieties. Whether you have gold bars, silver bars, newly minted bullion coins, private mint coins or medals, or odd size/weight silver, or platinum bullion items, we can give you an accurate appraisal and offer.
We regularly buy the following types of silver, gold and platinum bullion material: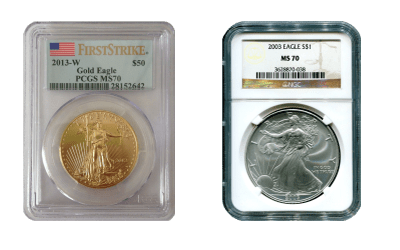 Many US bullion coins, as well as certain foreign bullion coins, are certified by rare coin grading services like PCGS,  NGC, and ANACS. These coins are often found in grades of MS-69 and MS-70, or PF-69/70. Such high-grade certified bullion coins are often worth far more than the current spot gold price or spot silver price may suggest. We have a strong market for these coins, and are enthusiastic bullion buyers.
There are many instances of US bullion coins and foreign bullion coins having numismatic value. These coins often have greater than average interest, and thus carry a numismatic premium. These are of special interest to our bullion collector clientele. Examples of this can be seen with US modern commemorative gold coins, and even American Eagle Gold Proof coins and American Eagle Silver coins. Among foreign bullion coins, examples include Chinese Gold Pandas and Chinese Silver Pandas, British Sovereigns, and various Australian coin issues such as Gold Nuggets. Being rare coin dealers, American Rarities can pay you the proper numismatic value that these otherwise bullion silver coins and bullion gold coins truly deserve. Never assume that the current gold spot price or silver spot price is the end-all for valuing your bullion coins!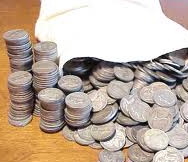 They may be common and unexciting, but what bullion buyer doesn't purchase 90 percent silver coins, and 40 percent silver coins? We will give you as strong a price as anyone else, period. These silver coins are just a commodity, bought and sold based on spot silver price, but there is one upside to them – countless times, our company has found rare US silver coins mixed in with a batch of otherwise mundane 90% silver coins. When we evaluate your silver coin collection, we will be sure to check for any numismatic coins that may be included, and pay you accordingly.
Simply put, we work with every type and variety of gold bullion and silver bullion, odd weights and sizes included. We are one of the nation's strongest buyers of bullion items, and will make you the highest offer the precious metal market allows on your material. When you search for "buying and selling silver", "buying bullion", "selling silver bars", "selling gold bullion", "sell silver bullion", and "silver bullion dealers", you want to find a bullion buyer like us.

Free Appraisal for Your Gold Bullion and Silver Bullion
Email, Text, or Use This Form To Send Us Your Inventory List or Pictures
Professional Associations