Get a Free Appraisal and Offer To Purchase Your Comic Book Collection
We regularly purchase comics from comic book collectors across the country. We buy comic book collections of all types and sizes, and offer free appraisals on all collections our buyers examine for purchase.
Being professional comic book dealers, our staff works hard to make the strongest offer possible on every comic book collection we evaluate. Unlike other comic book dealers, we do not "cherry pick" collections – our buyers are interested in the most common and mundane series, as well as the rarest and most esoteric issues.
If you're considering selling your comic book collection, or just want to know what your comic books are worth, Contact us for a free appraisal. Consider us your comic book price guide.
Comic Book Dealers You Can Trust
The Mom and Pop comic book shops are a thing of the past. If you are looking to get top dollar for your comic book collection, then look no further that us. Consider us your neighborhood comic book dealer near you. Our comic book buyers have been serving comic book collectors for almost 30 years.

Free Appraisal for Your Comics and Comic Book Collections
Email, Text, or Use This Form To Send Us Your Inventory List or Pictures
Appraising and Valuing Comic Books


Our comic book buyers utilize all the tools available to appraise your comic book collection including recent auctions, current price listings, and other references.


For more than 50 years the OVERSTREET COMIC BOOK PRICE Guide is the bible for rarity and values. It is a necessary reference and should be in every comic book collectors toolbox.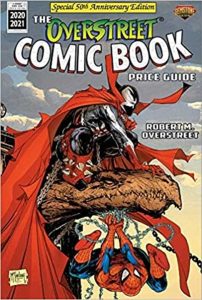 Comic Books are broken up into several periods.
Comic Book Grading Services
The high monetary value of many comic books necessitates third party grading services that will authenticate and grade them. The fee for getting a comic book graded is usually well worth the expense as it provides comic book collectors and comic book dealers the confidence they need to be sure that they are making good decisions when buying or selling them. The best of those grading services are shown below.


Grading and Storing Your Valuable Comic Book Collection

These are essential guides to the grading and preservation of your comic book collection.  The grade or quality of your comic book is an essential ingredient in determining it's value.  Knowing how to take care of your comic books is necessary as well.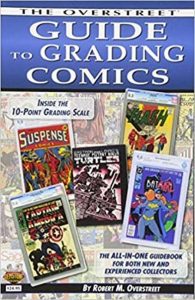 The comic book grading scale is a 10 point system. It is far easier to understand than that other collectable grading systems such as for numismatic rare coins which use a 70 point scale. Here is a link to a more descriptive list of the comic book grading scale definitions.


10     Gem Mint (GM)
9.9    Mint (MT)
9.8    Near Mint/Mint (NM/MT)
9.6    Near Mint+ (NM/MT+)
9.4    Near Mint (NM)
9.2    Near Mint- (NM-)
9.0    Very Fine/Near Mint (VF/NM)
8.5    Very Fine+ (VF+)
8.0    Very Fine (VF)
7.5    Very Fine- (VF-)
7.0    Fine/Very Fine (FN/VF)
6.5    Fine+ (FN+)
6.0    Fine (FN)
5.5    Fine- (FN-)
5.0    Very Good/Fine (VG/FN)
4.5    Very Good+ (VG+)
4.0    Very Good (VG)
3.5    Very Good- (VG-)
3.0    Good/Very Good (GD/VG)
2.5    Good+ (GD+)
2.0    Good (GD)
1.8    Good- (GD-)
1.5    Fair/Good (FR/GD)
1.0    Fair (FR)
0.5    Poor (PR)