U.S. Gold Coin Information
How to collect, buy, and sell U.S. Gold Coins
How to collect Gold Coins
Gold coin collectors are always on the lookout for new material for their collections. Coin types of most common interest are Indian gold coins and Liberty Head gold coins of all denominations, gold eagles and gold double eagles, Classic Head gold coins, Saint Gaudens gold double eagles, and more. So instead of trying to collect them all, or all of one particular gold coin type, you may opt to collect one of each type otherwise known as a type set collection.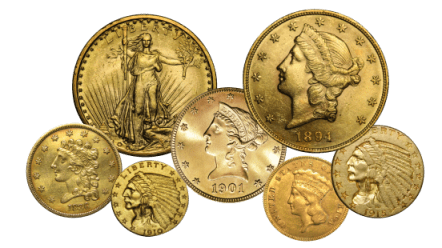 Buying and Selling Gold Coins
Adding to your gold coin collection can be a bit of a hunt. Of course the logical direction to take would be to purchase gold coins from reputable U.S. gold coin dealers. However, those of us looking for a better price may want to check out other selling channels like CraigsList, eBay, and other on-line sources.
Selling your gold coins can be best achieved by consulting with a reputable U.S. gold coin dealer. Only a dealer will have the wherewithal ie. capital as well as the interest in purchasing all your gold coins. While selling your coins piecemeal sounds like a good idea for attaining the best prices, it rarely is. See Mistakes to Avoid When Selling Rare Coins for a complete explanation.
U.S. Gold Coin Mint Marks
Of general interest to gold coin collectors are proof American gold coins, NGC and PCGS certified U.S. gold coins, and branch mint coinage from the Carson City, New Orleans, Dahlonega and the Charlotte mint.
Gold Coins by Type and Date Range
Some few gold coin collectors who are privileged to have a thicker wallet than the rest of us step out of the box by purchasing some of the more esoteric numismatic gold coins such as California fractional gold coins (sometimes known as California small denomination gold), private and territorial gold coins, Bechtler gold coins and U.S. Pattern or Judd Pattern gold coins.
We have a special interest in the history of numismatic gold coinage, and are always looking for collections of private mint or territorial gold coins and medals. We purchase gold coins from Moffat & Co, the United States Assay Office, Moffat-Humbert, Baldwin & Co, Kellogg & Co, and Clark, Gruber & Co, to name a few.

Free Appraisal for Your U.S. Gold Coins
Email, Text, or Use This Form To Send Us Your Inventory List or Pictures
Professional Associations