U.S. Paper Currency Information
This is the information regarding U.S. and even foreign paper currency that you have been looking for. Collecting paper money or paper currency is a deep subject with a long history. There have been paper money collector for a long as paper currency has been around. For U.S. paper money collectors that starting point was at the onset of the first colonies circa 1607. Collecting paper money has several key components, Quality, Rarity, and Value. Below is the information you need to understand what your paper currency collection is worth.
If you want to cut to the chase and would like to go ahead and get a free appraisal for your paper currency collection, go to our Paper Currency Purchasing page.
Types of U.S. Paper Currency
Raw and certified US paper money types and grades:
Large and small size type notes
Free Paper Money Grading With the Appraisal of Your Currency Collection
We provide free appraisals and free paper currency grading for all US currency collections we inspect for potential purchase.
Establishing a value for your US paper money requires utilizing a number of information sources as there isn't a one stop paper money price guide or paper currency price guide. Our expert paper currency dealers utilize the Certified Currency Dealer Newsletter, known as the Green Sheet, recent auction sales, population reports and other information sources to appraise your notes.
Certified U.S. Paper Currency
Paper money similar to rare coins can be authenticated and graded by a third party service. This can assist in the appraisal and valuation of your notes. We appraise and purchase paper currency collections graded by CGA, CGC, PMG and PCGS Currency, in addition to "raw" or non-graded US paper currency collections. We are a submission center for all the aforementioned grading services. We can submit your notes for grading, whether for your own collection or as a preface to buying your paper money. This helps guarantee you the highest price possible for your U.S. paper currency collection.
American Rarities is a reputable paper currency dealer you can trust. When you Google "Currency Collectors near me", "My Currency Collection", US Paper Money Buyers near me", and "US Paper Currency Values", "currency collector near me",  you want to find a company like American Rarities.
Find out the value of your paper currency. Request a no-obligation free appraisal and offer on your US paper currency collection! Our expert buyers can provide a fair, accurate valuation of your paper money collection.
PCGS Currency (no longer in operation)
American Rarities Buys U.S. Paper Currency of All Types

United States Notes of varying types, 1862-1994
Also known as legal tender notes, United States Notes were issued in denominations of $1, $2, $5, $10, $20, $50, $100, $500 and $1000. The interesting, and often intricate, designs of large size Legal Tender Notes have collectors and several have been given interesting nicknames such as:

"Rainbow" ($10 Legal Tender – Series 1869)
"Bison" ($10 Legal Tender – Series 1901)
"Woodchopper" ($5 Legal Tender – Series 1907)
"Sawhorse Back" ($1 Legal Tender – Series 1917)

Fractional Currency 1862-1876
National Bank Notes 1863-1938
Gold Certificates 1878-1965
Silver Certificates 1878-1965
Treasury (or Coin) Notes 1890-1899
Federal Reserve Notes 1914-Present
Federal Reserve Bank Notes 1915-1945
Large Size US Notes
Colonial Currency
Obsolete Notes (issued by private banks in the 1880's)
Confederate States of America notes
Small Size US Notes
Error Notes
Paper Currency Grading Standards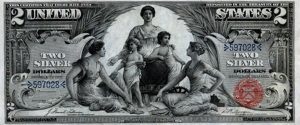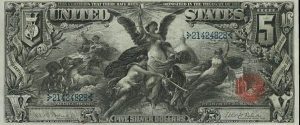 Good: A heavily circulated note with obvious signs of handling. May include soiling and considerable wear and tear. Corners of the note may also be missing.
Very Good: An obviously well-circulated bank note with many creases, folding and wrinkling noticeable. Note may be dirty, "limp", and dark in appearance. Corners may show severe wear and rounding, and some tears may be present. Note should be complete however, with no pieces missing.
Fine: Note has been considerably circulated and may have creases, folds and visible wrinkles. Edges show evidence of circulation, and there may be slight tears. May have very minor loss of color or extremely light stains.
Very Fine: A circulated note that still shows some signs of crispness. May have several vertical and horizontal folds as well as slight dirt or smudging visible. Will show signs of handling, though a VF note will have no tears on the edges.
Extra Fine: Paper is clean and bright with only faint evidence of circulation or handling. Bill may have several minor folds or one strong crease visible. Tears and discolorations are not present.
About Uncirculated: A note that may initially appear as uncirculated, but closer examination discloses the slightest signs of handling, some minor corner folds, a light bend or minor crease or a slight finger smudge. Paper is still crisp and bright and has original sheen.
Crisp Uncirculated: A note that has not been released into circulation and still has its original crispness. Basically the note is in the same condition as it was first produced. The paper must be firm and crisp, without any creases, folds or tears, and the corners must be sharp and square.
U.S. Paper Currency Star Notes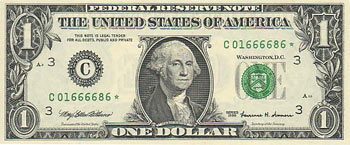 Star notes are used by the BEP (Bureau of Engraving and Printing) to replace misprinted / damaged currency before it goes into circulation. These replacement notes are printed just like normal notes, except there is a star printed in the serial number. On Federal Reserve Notes, the star is where the block letter normally is (the last letter of the serial number). On Legal Tender notes and Silver Certificates, the star is where the prefix normally is (the first letter of the serial number).
Paper Money Fancy Serial Numbers
Solid Serial Number – All One Number
Low Serial Number – Two Digits or Less
Trailing Zero Serial Number – Seven Zeros after Number
Ladder Serial Number – Sequence of Consecutive Numbers
Radar Serial Number – Reads the Same Both Ways
Flipper Serial Number – Reads the Same Upside Down
Repeater Serial Number – Two Numbers Repeated
Binary Serial Number – All Zeros and Ones
Stand Alone Serial Number – Number Surrounded by Zeros
Fancy Serial Number Rarity - how rare is my fancy serial number?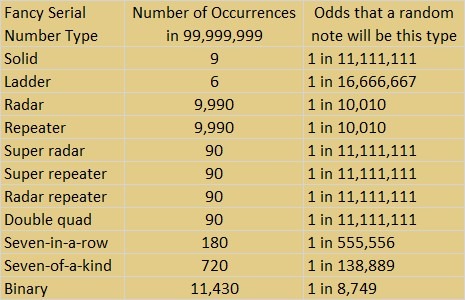 Paper Currency Error Notes
Paper Currency Printing Process
To better understand error notes it will help to have a basic understanding of the three stages of the printing process. Errors can occur at any stage.
First Print. This is when the back of the note is printed.
Second Print. When the front of the note is printed.
Overprint. This includes the treasury seal and serial numbers.
This is a concise listing of the basic types of error notes. It is important to remember that many of these errors may be seen in combination with other note error types.
Misalignment Error
Gutter Fold Error
Cutting Error
Insufficient Inking Error
Board Break Error
Ink Smear Error
Solvent Smear Error
Offset Printing Error
Missing Print Error
Printed Fold Error
Obstructed Print Error with Retention
Overprint on Back Error
Mismatched Serial Number Error
Wet Ink Transfer Error
Paper Jam Error
Inverted Back Error
Inverted Overprint Error
Test Note Error
Double Denomination Error – The king of error notes.

Free Appraisal for Your Paper Currency
Email, Text, or Use This Form To Send Us Your Inventory List or Pictures
Professional Associations