If you googled "bullion dealers near me?" We're here to help. American Rarities has a nationwide network of bullion dealers across all 50 states. That means chances are, we're local to you.

We pay competitive rates for all gold bullion, silver bullion, and platinum bullion. Whatever form you have your bullion in – ingots, coins, or bars, American Rarities will pay you top dollar for it.
Always Paying More For Your Bullion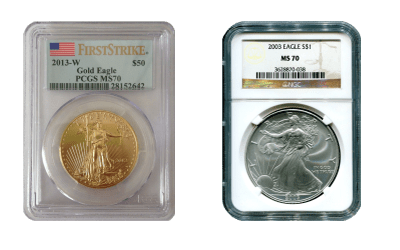 When you sell bullion to us, you get a couple of things:
Peace of Mind – Our more than 3 decades of experience and strong reputation (A+ BBB rating) mean that when you sell to us, you know you're in good hands.
Free appraisals – We offer appraisals for your bullion totally free of charge. Feel free to use us as a resource!
Unbeatable Offers – Our nationwide network of gold bullion buyers, and silver bullion buyers and our philosophy of razor-thin margins allow us to consistently beat the competition in offering you the best prices for your bullion.
Stress-Free Experience – We make our selling process easy and convenient. We won't waste your time with low ball offers, or by trying to cherry pick your collection for the best items. We'll buy your entire collection outright at a competitive price.
The good news is that you generally don't have to report to the IRS when you sell your bullion, unless it's in very large quantities. There are, however, capital gains and sales taxes which vary from state-to-state.
How do I Sell My Bullion?
Selling to us is easy:
Send us your inventory list, or pictures of your gold, platinum, or silver bullion, via text, email, or the Contact Us page. 
One of our bullion buyers will reach out to you with a written appraisal (for special cases, however, we can send a buyer to meet with you directly). This appraisal is free,

IRS-approved

, and carries no obligation to sell. 
Upon acceptance of our offer we can pick it up or you can ship the bullion to us, we'll insure the package at our expense. Once received by us, we make sure you're paid ASAP.
For anyone asking about "bullion dealers near me," American Rarities is the answer. We look forward to your business!

Free Appraisal for Your Coins and Coin Collections
Email, Text, or Use This Form To Send Us Your Inventory List or Pictures
Professional Associations