If you're a paper money collector looking to cash in on your hard won investment, you've come to the right place. At American Rarities, we specialize in providing a fair price for your paper money collection. Our paper money collector wants to collect your paper currency notes. We're a reputable paper money buyer with over 30+ years in the numismatics business and an A+ BBB rating.
How We Help the Paper Money Collector
When you deal with us, you get several advantages:
An immediate appraisal and a hassle free offer to purchase. — Just show us your inventory list or pictures to appraise.
Peace of mind — We've been in business for a long time, so we know what we're doing. We make the process of selling smooth, simple, and worry free. Not only are we one of the countries top paper money buyers, buy If you decide to ship to us, we'll insure your collection for free and pay you in full upon its receipt.
No haggling over the internet —  Don't deal with anonymous buyers online. If we like your collection, we'll send one of our paper money buyers near you to physically appraise your collection and pay you on the spot.
What Determines a Paper Currency Value?
To help determine what your paper money is worth, here are some things a paper money collector should keep in mind:
Level of circulation

– The more a note has changed hands, the lower its value will tend to be. This level of circulation is graded. A note that's never been circulated will be worth the most, and is known as a "Gem Uncirculated."
Fancy Serial number – A note with all one number (ex: all 9's) has what's known as a solid serial number. This is the most valuable type of serial number to have because the odds of it occurring are the lowest.
Error Note – Errors can occur at any stage in the printing process, including those due to misalignment, ink smearing, or paper jams. These will reduce the note's value.
These factors all go into determining a note's grade, which then helps determine its value. A paper money collector can take his collection to a grading service to determine the grades of his various notes.
Grading service companies include:
You can take your collection to these services for grading and appraisal and then submit them to American Rarities for a top dollar offer. By the way, we're a submission center for these services. We buy all kinds of paper money notes, from gold and silver certificates to national currency notes and old colonial currency.
On the other hand, if you want to skip that step and just make a sale, we regularly buy "ungraded" paper notes as well. You can also check out our Sell Your U.S. Paper Currency page to get started.
Always Paying More For Your Rare Paper Money

Free Paper Money Appraisal
Email, Text, or Use This Form To Send Us Your Inventory List or Pictures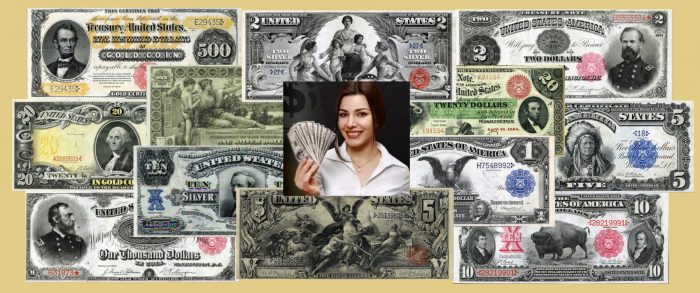 Professional Associations