This is a typical question we deal with.
Name: Stephen
Email: Sohare@
Phone: xxx xxx xxxx
What do you think? Do you think that this is an error coin? Please get back with me and let me know. Thanks . Obviously well circulated.
Hi Stephen,
Thank you for inquiring with us regarding your coin. The item you have presented is not a mint error coin. Unfortunately it has no extra collector value or bullion value. This is not an error coin but rather glue residue from two coins being stuck together and forced apart after drying. You're seeing the reverse and incuse image of the reverse of another nickel, the word "UNITED" is visible but orientated backwards. If you soaked this coin in acetone (nail polish remover) for a few minutes, that glue would come right off and you would be left with the original coin. Due to this we are unable to provide you with an offer.
Email us with any further questions you may have.
AR Staff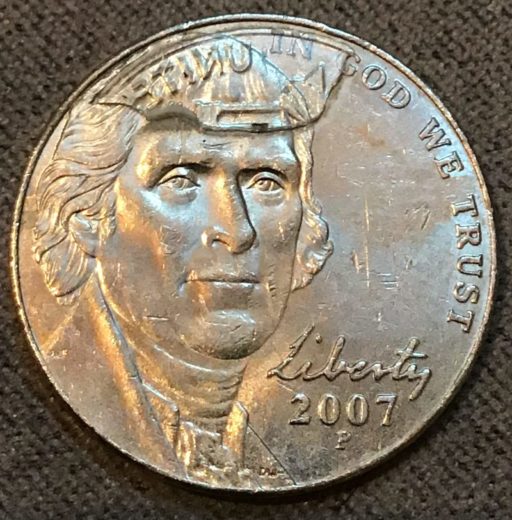 Wow! Thanks for your help regarding the 2007 Jefferson Nickel "error coin". You all were correct. The "minting snafu" was the reverse of another nickel pressed into some epoxy. Silly me. I am very impressed with your company. Over the years I have been interested in coins. I do believe I have some genuine rarities. The anomalies they possess are quite subtle and require more expertise than I have. Once again thank you and you can expect no more liquid nail nickels.(Don't take any wooden nickels?). No longer buffaloed in Florida.