US proof sets are that year's current circulating coins that are specially struck in "proof condition" by the U.S. Mint for coin collectors. Because they're relatively inexpensive, they're an accessible way for beginner numismatists to get started in the hobby.

If your collection includes U.S. Mint Sets, or U.S. Commemorative Coin Sets see our page on selling them.
What Determines US Proof Set Values
Some factors determining US proof set values include:
The grading service – many US proof set coins are graded by rare coin grading services like ANACS, NGC, and PCGS.
The grade of the coins – Let's face it, quality can matter. Proof coins in the very highest of grades could be valued significantly higher.
The year of issue – Modern US proof sets have been minted since 1936. Generally speaking, US proof set values are higher the closer they are to 1936. However, throughout the series there are special instances of various sets going for hundreds or even thousands of dollars more than normal.
No one else can help you better ferret out those valuable coins than us.
For those interested, here is a link to a deeper dive into Proof Sets, Mint Sets, and Commemorative Sets.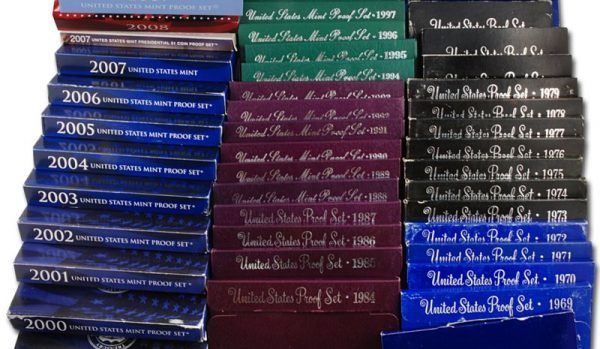 What is My US Proof Set Worth?
There's an easy process for finding out your US proof set values. All you need to do is provide us with a simple inventory list, or pictures, as well as contact information. If you decide to send us pictures, here are instructions on how to take the best coin pictures.
From there, we'll get you a written appraisal value and offer to purchase, (within a few hours in many cases). If circumstances permit, we may even send our coin buyer to your house for a physical appraisal that would be payable on the spot, totally free of charge.
Always Paying More For Your US Proof Sets

Why Sell U.S. Proof Sets To Us?
When it comes to figuring U.S. Proof Set Values, there's a number of advantages to dealing with us 
These include:
Decades of experience — We've been in the numismatics business for over 30 years and have the extensive knowledge and resources that allow us to confidently make Top Dollar Offers to buy from folks like yourself.
Reputability — Check out our Google Reviews. An A+ rating from the Better Business Administration. This means if you deal with us, you can trust that you are dealing with one of the most reputable coin dealers around.
Fewer Expenses— If you decide to ship to us, we'll cover the insurance expense, and if your are selling us $400 or more, we'll even cover the postage expense!
Less aggravation — If you come to us you're not going to have to travel around just to haggle with greedy coin shop owners or otherwise, deal with anonymous buyers online. Not only will we offer to buy your entire collection, we'll make you that offer writing. Best of all, if you choose to sell with us, payment is promptly made upon our receipt of your US Proof Set collection.
Don't wait any longer to find out if you have a valuable collection! Fill out the form below to get started today!

Free Proof Set Appraisals - Free Proof Set Values
Email, Text, or Use This Form To Send Us Your Inventory List or Pictures
Professional Associations