Seven of the eight different 1982 Lincoln Cents in uncirculated condition. This set is worth $10.00
Due to rising production costs the United States Mint experimented with several variations in the metal composition and design of the 1982 Lincoln cent. The copper coins weigh 3.1 grams, while the zinc coins weigh 2.5 grams. Also since zinc is harder than copper, the zinc coins have lettering that is smaller and of lower relief. This so that the coins would strike up properly. There are nominally seven different official varieties of this transitional Lincoln Memorial cent.
The coins above have collector value only in grades of Mint State 67 and higher.
The 1982-D small date copper variety is the one that is worth all the money.
Only couple of this unofficially issued transitional cent variety have been found. Estimated values for even a circulated coin are in excess of $15,000.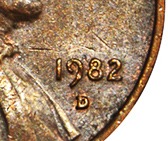 Four Easy Steps to tell the variety of your 1982 Lincoln cent and find out if you have the rare 1982-D Small Date Copper Lincoln Memorial Cent.
1) Check for the Mint Mark. Denver struck cents display a "D" below the date. No Mint Mark means the coin was struck in Philadelphia
2) Check the numeral 8 in the date. On the Large Date Variety the numeral eight will have equal sized upper and lower loops in the eight. The Small Date Variety will have a smaller upper loop than the bottom.
3) Check the numeral 2 in the date. On the Large Date Variety the numeral two should have a straight diagonal two. The Small Date Variety will have a crooked diagonal two.
4) Check the weight. The copper varieties weigh 3.1 grams. While the zinc varieties weigh 2.5 grams.
For those of you still reading, there are three further varieties. However they do not have much collector value even in high grade.
1982-D Double Die – Lincoln has an extra ear lobe.
1982 Double Die Obverse – has some mild obverse doubling.
1982 Double Die Reverse Zinc Small Date – has some mild reverse doubling.
If this was not enough information or you are still confused about your 1982 Lincoln Cent checkout this video.